FACTS
Mineral: Corundum
Chemistry: Al2O3
Color: Every color but red
Refractive index: 1.762 to 1.770
Birefringence: 0.008 to 0.010
Specific gravity: 4.00
Mohs Hardness: 9
Known as the "wisdom stone", each colour of Sapphire brings its own particular wisdom.  It releases mental tension, depression, unwanted thoughts and spiritual confusion.  Sapphire restores balance within the body, aligning the physical, mental and spiritual planes, bringing serenity and peace of mind.  It stimulates concentration, brings lightness, joy and peace of mind.  Sapphire is also known as a "stone of prosperity", attracting gifts of all kinds and fulfilling dreams and desires.
Sapphire treats blood disorders, combatting excessive bleeding and strengthening the walls of the veins.  It is used for cellular disorders, regulates the glands and calms overactive body systems.
In addition to the generic healing properties of Sapphire, specific colours have additional attributes:
Black Sapphire brings the wisdom of confidence in one's own intuition. It is protective and grounding, relieves anxiety and sorrow, and is a talisman for seeking and maintaining employment.
Green Sapphire brings the wisdom of fidelity and integrity. It encourages compassion for others, stimulates vision, and improves dream recall.
Orange or Padparadsha Sapphire brings the wisdom of loving creation from the heart to the world. It unites one's creativity, sensuality and spirituality, and is a talisman of artists, writers and singers.
Pink Sapphire brings the wisdom of resilience. It stimulates emotions and encourages love, forgiveness, and release of the past. It honors acceptance and strength of heart.
Violet Sapphire brings the wisdom of spiritual awakening. It stimulates meditation, opens the Crown Chakra and allows the kundalini to rise unimpeded. It initiates oneness and peace.
White Sapphire brings wisdom and strength of spirit, providing the inner resolve needed in overcoming difficult obstacles to one's spiritual path. It brings clarity to the mind, and communication with higher guidance.
Yellow Sapphire brings wisdom and prosperity. It not only assists in bringing financial abundance, but stimulates the inner will through the solar plexus to creatively focus and manifest one's goals and ambitions.
Star Sapphires are created when Corundum is intergrown with fibrous inclusions of Rutile, "silk," that reflects light in stones cut en cabochon as a six-rayed, sometimes twelve-rayed star that appears to glide across the face of the gem as it is moved. This effect is called asterism and increases the rarity and value of the stone. The most famous Star Sapphire is the Star of India found around 300 years ago and is housed in the American Museum of Natural History in New York City. It is blue and flawless, the size of a golf ball with stars on both sides, and is a stone of great religious significance.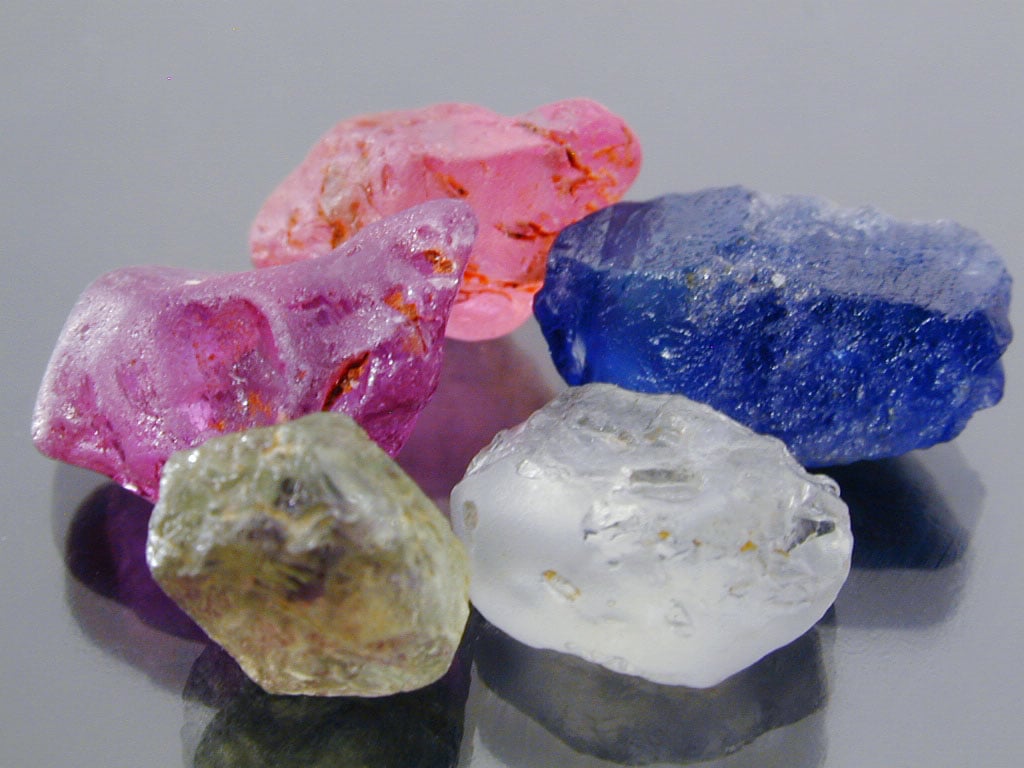 HEALING
Sapphire Physical Healing Energy
Blue Sapphire assists in healing all parts of the body and soothes insomnia. Used externally or as an elixir, Sapphire water is considered a good purifier and should be used as the seasons change.
Long used as a curative for eye infections and improving eyesight, Blue Sapphire is also used to relieve headaches, fever, nosebleeds, and issues of the ears, including hearing, infection, inner-ear imbalances and vertigo.
Blue Sapphire is beneficial to the thyroid, swollen glands and in treating problems related to speech and communication. It is also considered helpful to the nervous system, and in treating blood disorders, dementia, and degenerative diseases.
Sapphire Emotional Healing Energy
Sapphire frees us from our "inner prisons" and psychic suffering that can cause us to shut down emotionally. It can be an effective aid in treatments for neuroses or even psychosis. Sapphire releases depression and lightens the mood. It brings calm and focus to the mind, and restores balance within the body.
Blue Sapphire assists those who are easily swayed by the opinions of others. It promotes a fuller understanding of the self, and assists one in becoming more secure in their own opinions and knowledge, and in expressing those truths to others.
Star Sapphires of any hue are excellent healing crystals for those with an inferiority complex, are afraid of socializing or speaking out, or who have been told they were useless. They also lend support in following a childhood dream or ambition that seems almost impossible.
Sapphire Chakra Healing and Balancing Energy
The strong Blue Rays of Sapphire are ideal for awakening and utilizing the Throat and Third Eye Chakras. Working in unison, these chakras not only have the capacity of inner vision, but the focus and ability to communicate one's vision to others in an effective way.
Blue Sapphire stimulates the Throat Chakra, the voice of the body. It is, in essence, a pressure valve that allows the energy from the other chakras to be expressed. If it is blocked, or out of balance, it can affect the health of the other chakras. When the Throat Chakra is in balance and open, it allows for the expression of what we think and what we feel. We can communicate our ideas, beliefs, and emotions, bringing our personal truth out into the world. We have an easy flow of energy within the body and spirit. The energy that springs upward from the lower chakras can continue its path enabling free expression and natural release. Blue crystal energy will unblock and balance the Throat Chakra. Darker shades of blue encourage the power of truth, while lighter shades carry the power of flexibility, relaxation, and balance.
Dark Blue or Indigo Sapphire stimulates the Brow Chakra, also called the Third Eye. It is the center of our perception and command, and directs our sight and everyday awareness of the world. Our consciousness is located here, and we relate to ourselves through this chakra. When the brow chakra is in balance our thoughts and internal communications within ourselves are healthy and vibrant. We are open to new ideas, dreams, and visions, and can control the flow of energy within all the chakras. Dark blue and indigo crystals are used to treat imbalances of the brow chakra. It is a quiet color, one of mystery and wisdom and judgment.
Sapphire Spiritual Energy
Sapphire is a stone of spiritual power and astuteness, bringing prosperity and helping to sustain the gifts of life. It tends to focus, emanate and radiate its energy in fulfilling dreams and desires of the consciousness, even without conscious initiation.
Blue Sapphire is a Wind element stone activating the higher mind. It opens awareness and communication with the higher planes, and stimulates psychic visions, extrasensory perception and one's inner sense of knowing. It engenders strength of mind and increased learning ability, and may be used for wisdom in negative situations. It also allows one to act as a conduit in channeling received information.
Blue Sapphire is an excellent stone for use in alternate or past-life therapy, helping one remember other lifetimes and the lessons they provided. It can also be used to enhance hypnosis and trance states, and in shamanic ceremonies to transmute negative energies.
Sapphire Color Energy
Blue Sapphire reflects the color energy of the sky, as winter gives way to spring and the sun climbs higher each day. It marks the beginning of life and emotion. Blue crystals bring trust, faith, patience, and respect, lending the focus we need to become more sincere, act more responsibly, and become more trustworthy. Light blue crystals help us accept the life we have, develop patience, reconcile differences, or seek forgiveness. They're excellent for recovery efforts from addictions or destructive patterns, aid in curbing tempers, and help us become more dependable and cheerful. Light blue crystals also assist in dealing with grief, letting go of the past, and curing guilt. Darker blue talismans enhance the respect and compassion we have within ourselves. They teach us humanity, discretion, and honor, and encourage us to act more charitably and focus our efforts on service to others.
Indigo Sapphire combines the intuition of the violet ray with the trust of the pure blue ray. It brings wisdom, truth, dignity and spiritual mastery. A stone of judgment and long life, it promotes introspection and can result in profound wisdom when used well. Dark indigo crystals provide honesty and are especially good for religious and spiritual journeys, while light indigo crystals connect us to the natural world and improve our appreciation of others.